Google Analytics For Beginners Answers Assessment 2
Course Link: https://analytics.google.com/analytics/academy/course/6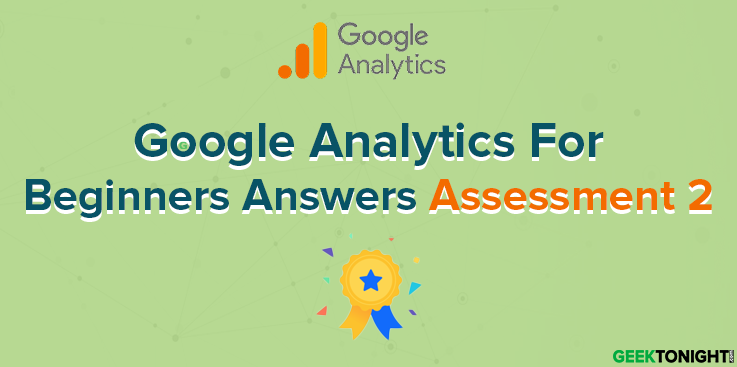 What feature would be used to compare two date ranges in a report?
Hourly, Day, Week, Month views in the time graph
Real-time reports
Date range comparison
Account selector
What does the "Users" metric measure?
The total number of visits to your website
Users that had at least one session on your site in the given date range
Users that landed on the homepage of your website
Users who have signed up to an email newsletter on your website
What is the "Bounce Rate" in Google Analytics?
The number of times unique users returned to your website in a given time period
The percentage of sessions in which a user exits from your homepage
The percentage of total site exits
The percentage of visits when a user landed on your website and exited without any interactions
 What is a "dimension" in Google Analytics?
The total amount of revenue a business has made in a given date range.
An attribute of a data set that can be organized for better analysis.
A comparison of data between two date ranges.
A report that offers information about your audience.
What is a "secondary dimension" in Google Analytics?
An additional widget you can add to a dashboard for more specific analysis.
An additional metric you can add to a report for more specific analysis.
An additional dimension you can add to a report for more specific analysis.
A visualization that allows you to understand the impact of your data.
Which Google Analytics visualization compares report data to the website average?
Pivot view
Comparison view
Performance view 
Percentage view
How can the amount of data in a sampled Google Analytics report be increased?
Apply additional filters
Remove the Secondary Dimension
Choose "Faster response" in the sampling pulldown menu
Choose "Greater precision" in the sampling pulldown menu
Dashboard only
Data only
Dashboard and data
Neither dashboard nor data
---
Google Analytics For Beginners Course Overview
Google Analytics for Beginners shows new users how to create an account, implement tracking code, and set up data filters. You'll learn how to navigate the Google Analytics interface and reports, and set up dashboards and shortcuts. The course will also demonstrate how to analyze basic Audience, Acquisition, and Behavior reports, and set up goals and campaign tracking.
This course covers Google Analytics primarily for measuring website traffic. To learn about new capabilities that bring app and web analytics together, visit Analytics Help.
---
Google Analytics For Beginners Frequently Asked Questions
1.

How do I prepare for and complete the Google Analytics Individual Qualification (GAIQ) exam?
Google Analytics for Beginners and Advanced Google Analytics are Academy courses intended to prepare you for the GAIQ. We strongly recommend you complete both courses before taking GAIQ.
When you are ready, you can complete the Google Analytics Individual Qualification exam on the Skillshop learning platform. Note that your certificate information will not be recorded on Analytics Academy like your course completion certificate. These certificates will exist in separate systems.
2.

How do I change the name on my course certificate?
The name that appears on your User Profile and certificate is the name associated with the Google Account you used to register for Analytics Academy. First, check the email in the upper right-hand corner of the Academy to make sure you are signed in with the correct email.
If you did not specify a name on your Google Account, then no name will appear on your certificate. Also, don't use a shared email to log into the Academy, since we will be unable to associate your certificate with you personally.]
To change or add a name to your Google Account:
1. Sign in to your Google Account.
2. Under "Personal info & privacy," select "Your personal info," then select "Name."
3. Edit or add the name you wish, then click "Done."
4. Note you may need to refresh the Academy site to reflect the name change or wait about thirty minutes.
3.

Can I transfer my Analytics Academy certificate to a different Google Account?
Unfortunately, we are not able to transfer certificates at this time. If you have completed an Analytics Academy course using the wrong email account, you will need to re-register using the correct account and retake the assessments for a certificate of completion.
4.

Is this course available in a different language?
The course is available in Chinese (Simplified and Traditional), Czech, Dutch, English, French, German, Indonesian, Italian, Japanese, Korean, Polish, Portuguese, Russian, Spanish, Turkish, and Vietnamese.
You can use the language selector in the bottom right corner of the page to switch languages.
5.

Why is some of the course translated and some of the course in English?
During the translation process, there may be some English mixed in with translated text. If you check back later, this should be resolved as our translators work through the course content.
6.

How long will the course take to complete?
If you go through all the course content sequentially, we expect the course to take 4-6 hours to complete, depending on your level of familiarity with the course content.
7.

If I have a question about the course, who should I ask?
For any questions about the course, please visit the Course Community. There you can find frequently asked questions, extra tips about using Google Analytics not included in the course, and post new questions that industry experts, as well as fellow Academy students, can help answer.
8.

How long will I have to earn a certificate of completion?
You may earn a certificate of completion at any time. You can track your progress through the course in your User Profile and return at any time to complete the course assessments.
Note that you will need a score of 80% or better on each assessment to earn a certificate of completion.
9.

How much do Academy courses cost?
All Academy courses are free of charge.
10.

Why can't I access Analytics Academy with my G Suite account?
G Suite accounts cannot currently access Analytics Academy. Please log in with a non-G Suite Google account.
11.

What are the system requirements to take this course?
To view the course content and complete the activities, you will need an Internet-enabled device and access to a Google Account. To watch the course videos, make sure you use one of the following browsers:
Google Chrome, Firefox, or Safari
Internet connection with 500+ Kbps
12. Can I use my mobile device to view the course content?
Academy courses include formats such as video and text lessons, which are accessible from most mobile devices.
However, not all devices are the same, so some content may not work optimally on some mobile devices.
---
All Google Certification Answers
---
---
---
---
---
---