Getting Started With Google Analytics 360 Answers Assessment 2
Course: https://analytics.google.com/analytics/academy/course/8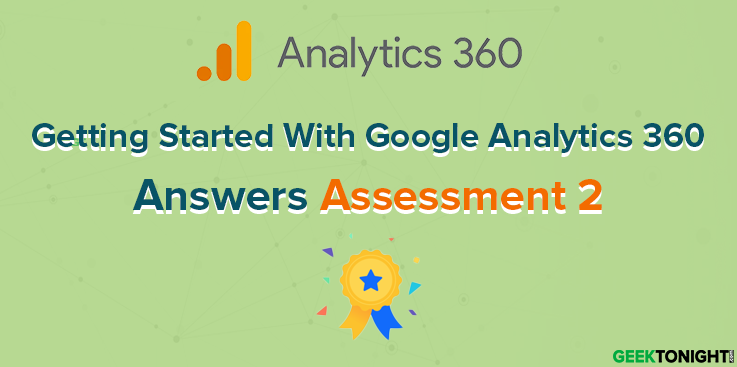 What is BigQuery?
Data Visualization Tool
Data Warehouse
Dynamic Optimization Tool
Data Transfer Service
Which of the following are benefits of using BigQuery to analyze your Analytics 360 data? (select three)
You can access hit-level data
You can query unsampled user page paths
You can create fast, easy-to-share dashboards and charts
You can combine your Analytics 360 data with data from other sources
What reporting objectives can be accomplished in BigQuery but not within the Google Analytics interface? (select two)
Analyzing and visualizing Source/Medium values for all website users.
Reporting on e-commerce transaction rates for each brand of your business.
Reporting on the amount of time between events occurring across multiple sessions.
Reporting on the unsampled pageview paths that users followed.
What needs to be created before completing the BigQuery integration with Analytics 360?
Data Table
Google Drive
BigQuery API
Google Cloud Platform Project
Using the BigQuery Export schema, which of the following fields are available in BigQuery?
Custom dimensions, landing page, hit number, client ID
Clicks, impressions, hit number, client ID
Custom channel groups, landing page, time on page
Custom dimensions, hit number, client ID
---
Getting Started With Google Analytics 360 Course Overview
Getting Started With Google Analytics 360 walks you through how you can take advantage of the enterprise-level features you gain from Analytics 360. You'll learn about advanced features such as Roll-Up Reporting, Custom Funnels, Unsampled Reports, and Custom Tables.
You'll also gain insight into how you can benefit from reporting with BigQuery and native integrations with Google Marketing Platform products and Google Ad Manager. Throughout the course, we'll provide you with real-world examples to illustrate how you can leverage Analytics 360's features and integrations to drive performance and achieve your business goals.
If you're new to Google Analytics, you should first complete Google Analytics for Beginners and Advanced Google Analytics on Analytics Academy.
This course covers Google Analytics 360 primarily for measuring website traffic. To learn about new capabilities that bring app and web analytics together, visit Analytics Help.
Unit 1: Introducing Google Analytics 360
Unit 2: BigQuery/GA360 integration
Unit 3: Google Marketing Platform/GA360 integrations
Unit 4: Campaign Manager/GA360 integration
Unit 5: Display & Video 360/GA360 integration
Unit 6: Search Ads 360/GA360 integration
Unit 7: Google Ad Manager/GA360 integration (OPTIONAL)

Lesson 1: Google Ad Manager reporting integration
Lesson 2: Using Custom Reports and Audiences with Ad Manager
Lesson 3: Ad Manager/GA360 Setup
---
Getting Started With Google Analytics 360 Frequently Asked Questions
1.

How do I change the name on my course certificate?
The name that appears on your User Profile and certificate is the name associated with the Google Account you used to register for Analytics Academy. First, check the email in the upper right-hand corner of the Academy to make sure you are signed in with the correct email.
If you did not specify a name on your Google Account, then no name will appear on your certificate. Also, don't use a shared email to log into the Academy, since we will be unable to associate your certificate with you personally.
To change or add a name to your Google Account:
1. Sign in to your Google Account.
2. Under "Personal info & privacy," select "Your personal info," then select "Name."
3. Edit or add the name you wish, then click "Done."
4. Note you may need to refresh the Academy site to reflect the name change or wait about thirty minutes.
2.

Can I transfer my Analytics Academy certificate to a different Google Account?
Unfortunately, we are not able to transfer certificates at this time. If you have completed an Analytics Academy course using the wrong email account, you will need to re-register using the correct account and retake the assessments for a certificate of completion.
3.

Is this course available in a different language?
The course will be available in Chinese (Simplified and Traditional), Czech, Dutch, English, French, German, Indonesian, Italian, Japanese, Korean, Polish, Portuguese, Russian, Spanish, Turkish, and Vietnamese. When these languages are available, you can use the language selector in the bottom right corner of the page to switch languages.
4.

Why is some of the course translated and some of the course in English?
During the translation process, there may be some English mixed in with translated text. If you check back later, this should be resolved as our translators work through the course content.
5.

How long will this course take to complete?
If you go through all the course content sequentially, we expect the course to take 5-7 hours to complete, depending on your level of familiarity with the course content.
6.

If I have a question about the course, who should I ask?
For any questions about the course, please visit the Course Community. There you can find frequently asked questions, extra tips about using Google Analytics not included in the course, and post new questions that industry experts, as well as fellow Academy students, can help answer.
7.

How long will I have to earn a certificate of completion?
You may earn a certificate of completion at any time. You can track your progress through the course in your User Profile and return at any time to complete the course assessments. Note that you will need a score of 80% or better on each assessment to earn a certificate of completion.
8.

How much do Academy courses cost to take?
All Academy courses are free of charge.
9.

Why can't I access Analytics Academy with my G Suite account?
G Suite accounts cannot currently access Analytics Academy. Please log in with a non-G Suite Google account.
10.

What are the system requirements to take this course?
To view the course content and complete the activities, you will need an Internet-enabled device and access to a Google Account. To watch the course videos, make sure you use one of the following browsers:
Google Chrome, Firefox, or Safari
Internet connection with 500+ Kbps
11.

Can I use my mobile device to view the course content?
Academy courses include formats such as video and text lessons, which are accessible from most mobile devices. However, not all devices are the same, so some content may not work optimally on some mobile devices.
---
All Google Certification Answers
---
---
---
---
---
---