Integration of Process Using ERP
As discussed earlier the ERP system integrates all the departments of organization with a single database which leads to various benefits as discussed above if implemented properly.


In the legacy system the order placed by customer travels between different departments manually and step-by-step manner, which requires lots of encryption and decryption at different departments results in chances of order delay or error in order to data the legacy system and ERP systems.
Implementation of ERP System Department of Finance, HR and operations have single standalone computers and data is transferred manually between them but after ERP they all are interconnected and data is available at all department instantly as soon as the order takes place which eliminates the chances of order delaying and order data errors.
---
ERP Architecture
Data Warehousing

OLAP (online analytical processing

OLAP (online transaction processing

Data mining
Data warehouse and data mining are important to ERP system as they make the system intelligent. Enterprise with memory is provided by data warehouse and intelligent enterprise is achieved by data mining. Data warehouse provides the known facts and real-time data in proper order; data in warehouse can be any of the following type:
Time variant

Integrated

Non-volatile

Subject oriented
The data warehouse is capable to make small data packages from large data set available from multiple sources.
Day to day operational activities of the business is supported by an online transaction processing system (OLTP). On the other hand online analytical processing (OLAP) system provides real-time information to an organization that supports inaccurate decision making to achieve competitive advantage.
In expansive terms, a customer is an element that makes a demand to the server for service and the server is the entity that responds to that particular request. These two entities are connected by a third entity called network. For example, the architecture of SAP R/3 software has three layers:
Database layer

Application Layer

Presentation layer
Process layer requires the input from the presentation layer and validate the data to perform the different process by applying various business rules. This further requires the interaction with storage logic to obtained additional data; following are some of the main components:

Input-output processing

Communication with storage
Business transection and rules

Managing and balancing the loads

Storage layer is responsible for storage and retrieval of data on request from the processing logic component. It is synonymous with database management system. Main components are:

Data retrieval

DBMS

Data storage

Read-write-update
---
ERP Implementation Cost
Cost ERP Implementation is very high and also requires a detailed analysis of the current business process and practice. Return of investment (ROI) is also not immediate and depends on the successful implementation of ERP.
However it is hard to decide the correct cost of ERP execution because it depends on the size and type of organization and the requirements of individual organizations. Following are the several cost associated with ERP implementation: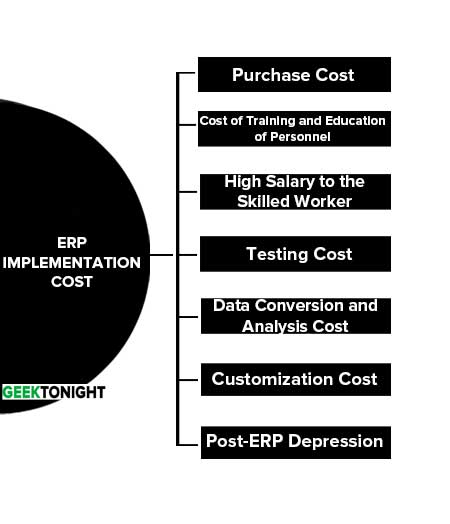 Purchase Cost
Implementation not only includes the purchase cost of ERP system but it also requires some sophisticated software and hardware tools to help support the successful implementation of ERP.
Cost of Training and Education of Personnel
As all the modules are integrated with ERP which is different from older practice, data entered by a person from one department affects the decisions of other departments so to avoid mistakes and for better cross-functionality knowledge of personnel training is required.
High Salary to the Skilled Worker
Implementation of ERP demands technical, interpersonal and multi-functional skills which is difficult to available in all personnel. For that company has to pay high wages to special employees with the above qualities.
Testing Cost
Testing of ERP system to check its integrity with different systems of organization and integration among the different modules of ERP is required for successful implementation. Above costs are the direct costs associated with ERP implementation but there are also some indirect costs associated with it as explained below.
Data Conversion and Analysis Cost
Data related to the material, design of product and supplier resources in the legacy system are required to convert incompatible format of ERP system. Along with that the data of ERP combine with external systems for analytical processing which stored in the data warehouse. It is also difficult to refresh data every day in a big data warehouse, this problem can be solved by custom programming but that may disturb the budget.
Customization Cost
Many organizations want some modules of ERP to work on their unique ways but as all the modules are integrated it is not always possible that ERP handles all these changes easily, for that extra staff with special skill is required to customize the software as per their own needs.
Post-ERP Depression
As ROI of ERP is not instant and the working procedure is different from the old process it creates panic among the employees and business goes into sudden involuntary muscular contractions.
---
Challenges in ERP Implementation
As the package of ERP is very complex it may take several years and
thousands of dollars for successful implementation. An execution without proper planning will end up being corporate root channels, not the upper hand.
Following are the major encounters in ERP implementation:
Top Management Commitment
Implementation of ERP is not just a changing of software systems but it is the effort to reposition the company and business process transformation. So, a very visible and well-defined commitment of top management is must require.


Business Process Re-engineering
While implementing the ERP re-engineering of the current corporate process is required to the finest corporate process standard because ERP is developed on the finest practices followed in industries. So if the ERP package cannot adopt the organization's unique processes than the organization must have to change its procedures.


Integration
Sometimes the unique needs of the company may not be covered by ERP than the company must have to use specialized third-party software to complete the software for satisfying the unique needs. ERP acts as a backbone in this case and this integration is most challenging in ERP implementation.


Implementation Time and Cost
ERP software has lots of modules that may or may not be implemented at a single time. The global implementation team needs to determine a common requirement for all plants. Typically on an average ERP implementation time is 14 months and needs 150 consultants. Corning Inc.


Plans to implement ERP in all ten plants expecting five to eight years, for this long period of time a huge amount of money has to invest in retaining the trained personal. As far as the total cost is concerned total implementation cost will be four to five times higher than the purchase cost due to the various factors
---
Go On, Share & Help your Friend
Did we miss something in BCOM/BBA Study Material or You want something More? Come on! Tell us what you think about our post on ERP Implementation in the comments section and Share this post with your friends.