Be it adorable cat videos, marketing gurus pumping up our endorphins, or cheesy quotes we loved during high school, we all have shared stuff on our Facebook wall that resonated with us.
Now, if you are thinking, "I am not even slightly tech-oriented to implement Facebook Ads", you know we never leave you dry.
As they say, "Be where your audience is", it's time for you to have Facebook Ads on your fingertips if you want to scale your business by targeting an audience on Facebook. Here are the best Facebook Ads Courses to get you started on the journey of being a successful Online-Marketeer.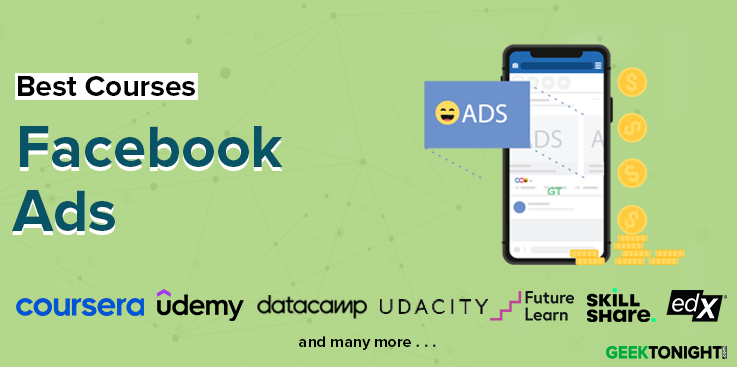 Our product recommendations are unbiased and based on an independent review process. We may receive a commission for links to recommended partners. See our advertiser disclosure for more information.
---
Top Facebook Ads Courses, Certification, Tutorials, Training, Classes Online
This Facebook Ads course is one of the highly-rated Facebook Ads courses on Udemy. Not only do you learn about the basics of Facebook Marketing, but the course dives deeper and teaches you the advanced mechanisms as well. It touches on the most prominent element in the world of online marketing, "the sales funnel", and focuses on getting the ads converted.
The online Facebook Ads course is created by CourseEnvy, a pinnacle agency in the world of Digital Marketing. It is a Los Angeles-based ad agency that offers an ever-growing range of high-quality online courses that teach using hands-on examples from experts in the field of study and tested research. All CourseEnvy courses are taught by passionate industry experts who possess kickass industry experience and have mentored 300,000 + students.
Key Highlights & USPs
Learn to connect with new audiences and lower your ad costs via Facebook Ads.


Mass post quickly to various social media networks and master Facebook Ads Manager.


MASTER your Sales Funnel౼Lead Generation, Dynamic Ads (for E-Commerce), Retargeting, Conversion and learn practical tracking strategies.


Learn how to use an average of $0.01 per engagement/like/click with Facebook ad strategies.


Implement the advanced features available in Facebook Business Manager to skyrocket your business.


MASTER Facebook Marketing all in one course and get access to 33 articles, 34 downloadable resources, full lifetime access , and a certificate of completion.
Who is it for?
This FB ads certification course adds value to people who are small business owners or influencers and bloggers who want to leverage the platform to boost their numbers and get loyal traffic. Apart from that, online marketers, advertising managers who are looking to master the world of Facebook Advertising to offer marketing services to their clients can reap the benefits of this top-notch Facebook Ads Course.
Rating: 4.7/5
Students Enrolled: 183,150
Duration: 12 hours on-demand

Valid till: 30th September
As the name suggests, this online Facebook Ads course by Udemy focuses on setting Ads for your E-Commerce to skyrocket your sales. This course incorporates valuable lessons for any business౼like setting up a Facebook Page, Payments, and Billing. This course also teaches the best techniques to create an ad copy that converts. This exhaustive course starts from scratch and eventually touches the prominent aspects to help scale businesses by optimizing your advertising budget.
One of the top Facebook Ads courses available online, this one is taught by Adam Reed, a well-known E-Commerce entrepreneur who is popular for running ventures since he was 15. Facebook Ads have played a pivotal role in scaling Adam's business to six figures and he teaches the exact techniques he used to get that. Adam has two of Udemy's best-selling courses to his name, so you are in safe hands.
Key Highlights & USPs
Understand the Structure of a Facebook Ad, Campaign Marketing Objectives and ensure to avoid Pitfalls most newbies fall in.


Learn how to edit the Ad Set Level in Detail, from Targeting to Placements to Budget.


Understand All Facebook Campaign Marketing Objectives.


Install a Facebook Pixel onto a Shopify Store and Implement best Set Up strategies for E-Commerce.


Get access to 9 articles, full lifetime access, and a certificate of completion.
Who is it for?
One of the best Facebook ads courses, this is basically for anyone who wants to leverage Facebook Ads and learn it from scratch to the advanced mechanisms of it. From entrepreneurs and bloggers who want to market themselves on their own to Digital Advertisers and Social Media Marketers who want to provide kickass Facebook marketing services to their clients and take a chunk of money home, anyone could benefit from this exhaustive course.
Rating: 4.3/5
Students Enrolled: 13,149
Duration: 10 hours on-demand video
This Udemy Facebook Ads course is a must for beginner-level marketers. This course focuses on getting the maximum return on investment made on advertising on Facebook and teaches techniques to optimize the ad spend for as low as $5. This beginner-friendly Facebook ads online course incorporates the common mistakes beginners make and presents comprehensive solutions to avoid that. This course has some unique strategies౼like lookalike audience strategies to set up custom audiences and has predictable ways of growing your business.
This Facebook Ad tutorial is created by Daragh Walsh and Rob Percival, both pioneers when it comes to the universe of Digital Marketing. Daragh has taught more than 1 million students, while Rob Percival is the creator of Codestars. They always ensure that their courses are well-structured, super interactive, and comprehensive.
Key Highlights & USPs
Learn how to set up your first ad campaign and create a Facebook Sales Funnel.


Learn to include discount coupons with Offer Ads and find out what ads perform best with Split Tests.


Learn to target people who are like your existing customers with Lookalike Audience.


Drive Ecommerce Sales with Dynamic Ads & Collection Ads and Track Conversions With the Facebook Pixel.


Get a Lifetime Access to All Future Facebook Ads Updates and a Udemy Certificate of Completion Ready for Download along with 3 articles.
Who is it for?
This Facebook ads training course is for people who already have a Facebook Business Page or Admin rights and want to use that to target customers for their businesses. If you want to add a Certified Marketer to your resume and land a high-paying marketing job, this course is a perfect match for you. Social Media Consultants who offer services to clients can also take up this course and benefit themselves.
Rating: 4.3/5
Students Enrolled: 17,590
Duration: 6 hours on-demand video
Facebook Blueprint: Free Official Training [Facebook]
For people who are new in the world of Digital Marketing and want to understand the basics without any kind of initial investment, Facebook is here to help you. This free Facebook Ads course is a self-driven, free guide to explore your marketing skills across Facebook, Instagram, Messenger, and Whatsapp.
This beginner-friendly course is prepared by the official team of Facebook, so you can never go wrong with this one.
Key Highlights & USPs
Learn to figure out your target audience, your customer journey, and your business goal.


Optimize and set your personalized marketing goals.


Learn how to monetize your content.


Learn how to establish your presence using Facebook Ads, and build a loyal engagement with your potential customers.


Learn how to create mobile ads, and optimize your campaign efforts.
Who is it for?
If you are merely a beginner and figuring out if digital marketing is your thing, you can enroll in this course. This online Facebook training is for you if you are someone who wants to possess slight experience with the platform before investing in a paid course.
Rating: —-
Students Enrolled: —-
Duration: —-
You can Sign up Here
Whether you are a digital marketing geek, or a complete newbie in this domain, Coursera's Facebook and Social Media Certification Course is one of the best out there. Not only does this course teach the basics, but includes an industry-relevant curriculum designed to prepare you for an entry-level role in social media marketing. This amazing online course teaches you to build an impeccable online presence, and social media management.
This Facebook Ad tutorial course is prepared by Anke Audenaert and Daniel Kob, both of them have trained more than 200, 000 students and helped them gain relevant skills. They are no strangers in the world of Online Marketing. 32% of students were able to start a new and lucrative career after successful completion of the course.
Key Highlights & USPs
Learn to create and analyze an effective advertising campaign for your target audience.


Analyze a creative brief that includes the assets for your paid ad.


Learn how to create, edit, and troubleshoot ads in Facebook Ads Manager more effectively.


Learn the importance and effective usage of Content Marketing౼Establish and manage a social media presence.


Learn the art of Content Development, Content Management , and Content Marketing.


Get a Lifetime Access to Certificate of Completion Ready for Download along with 3 articles.
Who is it for?
If you are looking for a high-paying marketing job after completion of an online course, then this facebook certification course is the best for you. When you complete all of the sessions in this course, you'll earn a Certificate to share with your professional network. You also get access to career support resources to help you kickstart your new career. This certification requires you to dive into real-life situations and hence adds a star to your portfolio.
Rating: 4.9/5
Students Enrolled: 53,787
Duration: 5 hours a week (5 months)
This online facebook ads certification course is a bit advanced౼It aims to teach the students how to build chatbots using Mobile Monkey, the world's best Facebook Messenger Marketing Platform. Until now, only developers or people with a background in coding were able to create chatbots, but Mobile Monkey changed everything. With Mobile Monkey, you can build complex bots on your own and this exhaustive course teaches that very comprehensively with zero coding knowledge.
This Chatbot Marketing course is created by Isaac Rudansky, a star in the digital domain. He has some of the best-selling Udemy courses to his name. Isaac has helped more than thousands of digital marketers in scaling their profitability. Isaac has himself created chatbots which have resulted in 80-90% engagement rates౼ way more than the marketing standards and he teaches how to use design and use chatbots for phenomenal ROI on your campaigns.
Key Highlights & USPs
Learn how to create highly successful Facebook Messenger ad campaigns and link them to your MobileMonkey Chatbot.


Learn how to connect your chatbots to GoToWebinar, Google Sheets, your CRM, and more.


Setup SMS notifications from Facebook Messenger leads using your chatbot.


Build a customer support chatbot that automatically answers questions and delivers content in a personalized way.


Sign up webinar attendees directly in Facebook Messenger using a webinar chatbot.


All students will receive an exclusive 92% discount to MobileMonkey, along with lifetime access to 11.5 hours of on-demand video, 3 articles, and a completion certificate.
Who is it for?
Whether you are an e-commerce business, a B2B business, an affiliate marketer, or anyone else with a website that needs more high-quality traffic, this best certification course is an amazing way to boost it. Facebook Messenger chatbots have time and again proved to be enormously efficient in skyrocketing traffic, and hence this course keeps you steps ahead of your counterparts.
Rating: 4.5/5
Students Enrolled: 10,515
Duration: 11.5 hours on-demand video
As the name suggests, this kickass Facebook Marketing course is for people who want to master Facebook Ads for their e-commerce website and skyrocket their sales. This course has amazing assignments to help you put your skills to use. Not only do you learn to create amazing ads, but you also learn the technicalities like the art of creating amazing images and copies for your ads.
This skillshare facebook ads course is taught by Rihab Seb, a well-known digital marketer who quit her 9-5 and built a multi-figure digital business. She now incorporates all her learning and helps aspiring business owners in scaling their business through amazing marketing skills. She has taught thousands of students.
Key Highlights & USPs
Understand the campaign budget optimization (CBO) and check out your competition ads.


Learn to create awesome images and videos for your ads. You'll also learn how to edit your video ads using your mobile phone.


How to choose your target audience well, and show ads to the only ones actually interested.


Learn to scale your campaigns, both horizontally and vertically, and get amazing engagements on your ads.


Learn how to leverage your e-commerce using effective marketing strategies, and access to 4 hours of on-demand video.
Who is it for?
If you want to be a freelance digital marketer and target high-paying clients to run their ads for their e-commerce website, or if you want to find a well-paying lucrative marketing job, then this is the best Facebook Ads course for you. If you are a business owner and want to have control over your marketing campaigns, this course teaches you the process of ads creation, so that your prospects cannot help add your products to the cart.
Rating: 4.6/5
Students Enrolled: 24,682
Duration: 3 months, 12 hours/week
---
FAQ
How can I learn Facebook ads?
1. Learn the basics of Facebook Ads, creating an ad campaign, and setting up goals you desire to achieve from the ads.
2. Take a course, give the assessment and get Facebook Ads certified.
3. Learn how to use the Facebook Business Manager.
4. Understand how Facebook Sales Funnel works and learn how to build those funnels.
5. Learn the art of creating campaigns to optimize and maximize conversions. Understand custom and lookalike audiences and dive deeper into the domain of Facebook Ads.
Are Facebook ads worth it?
If you are a business owner and want to promulgate word about your products or services, then Facebook Ads are 100% and completely worth it, as they help you reach your target audience in an unparalleled manner.
If you want to make a career in marketing, be it through an agency or freelancing, clients will pay you if you can bring them business. Facebook Ads help you do that. A lot of marketing agencies hire only if the prospective employee has a Facebook Ad certificate. To conclude, Facebook Ads are totally worth it.
How do you get Facebook certified?
1. Learn the basics of Facebook Ads, creating an ad campaign and setting up goals you desire to achieve from the ads.
2. Choose the Correct Exam. Each Facebook Blueprint certification exam tests a different Facebook advertising skill.
3. Take the Practice Exam. The certification exam won't take long, it's the time you have put in to learn the course that will ultimately decide what you score in the certification test.
4. Appear for the assessment. Once you pass that, you will be a Certified Facebook Ads Specialist.
How do I become a Facebook ad specialist?
1. Build your Facebook Marketing Skills and get accustomed to the platform.
2. Get Facebook Ads Certified.
3. Learn to use Facebook Business Manager and Sales Funnel.
4. Learn how to maximize conversions specific to your desired goals.
5. Learn about the Facebook Ads reporting tool.
6. Stay informed about Facebook Ads and updates.