Atmosphere Kombucha Shark Tank India
The new season of Shark Tank brings interesting ideas, products, and pitches from creative founders. This season has brought two American sisters on the platform to pitch their businesses. In the second episode of Shark Tank India Season 2, America Sisters Rebekah Sood and Ariella Blank pitched their brand, Atmosphere Kombucha and stunned all the Shark Tank Judges.
Seeing two foreign founders on Shark Tank India has already surprised all judges, but when they started pitching in Hindi – every judge was amazed. No matter where they belong, their business pitch has already touched the hearts of all sharks. Despite not receiving funding from Sharks, the startup shone through with its confidence and methods of building revenue of 1 crore.
Through this article, we will share deep insights into Atmosphere Kombucha's brand, how they generate profits, and why they rejected offers from Sharks.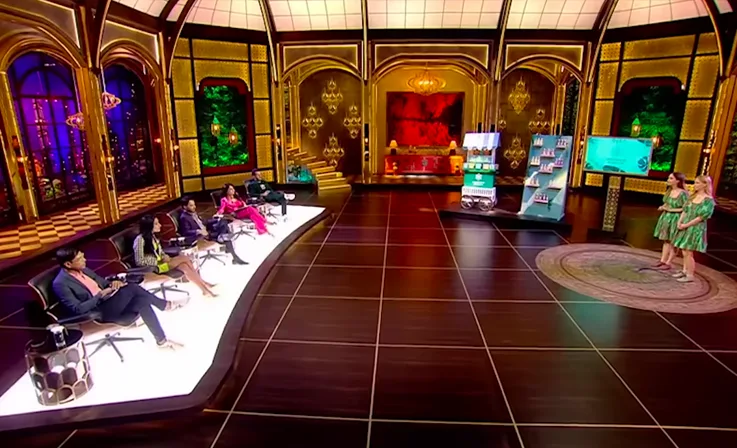 Atmosphere Kombucha Shark Tank Fact
| | |
| --- | --- |
| Episode Info | Season 2 Episode 3 |
| Business Pitch | Selling Health-boosting drinks such as Kombucha and Kefir to improve gut-related issues. This Delhi-based startup has a 100% women workforce and produces probiotic tea Kombucha with Jugaad. |
| Entrepreneur/founder | Rebekah Sood and Ariella Blank |
| Asked for (Expectation) | ₹75 lakhs ($90K) for 3% equity at a ₹25 Crore ($3M) valuation |
| Deal (Reality) | No Deal |
| Patil Kaki Address | Gaganmandal Technologies Pvt Ltd 143B Ground Floor Shahpur Jat New Delhi 110049 |
Atmosphere Kombucha Founder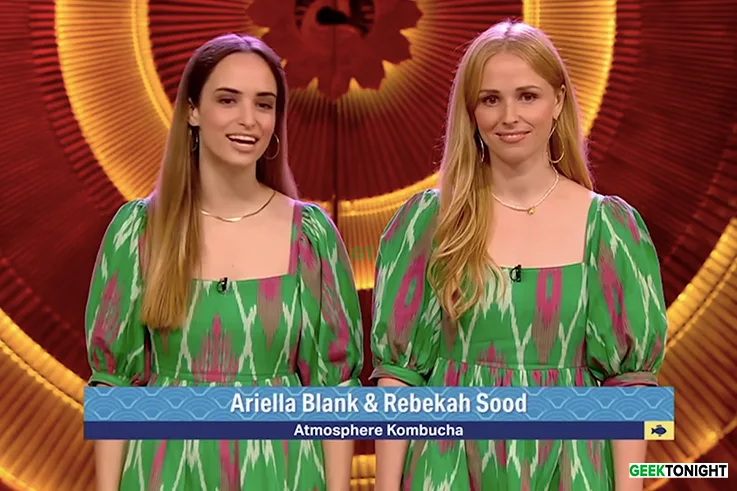 Atmosphere Kombucha is a new Delhi-based startup founded by two sisters in 2018. With their health-boosting products, founders Rebekah Sood and Ariella Blank aim to improve gut health. From Kombucha to vegan cheesecakes, this brand offers gut-friendly products packed with probiotics and prebiotics.
Rebbekah and Ariella are the daughters of an American IIT professor who spent his life in India conducting research and contributing to R&D. Since both sisters were born and raised in India, they are familiar with the culture and lifestyle of the country. Their trip began in the foothills of the Himalayas, where they were raised and had a good life surrounded by woods, clean air and water, and locally produced food.
---
Atmosphere Kombucha Story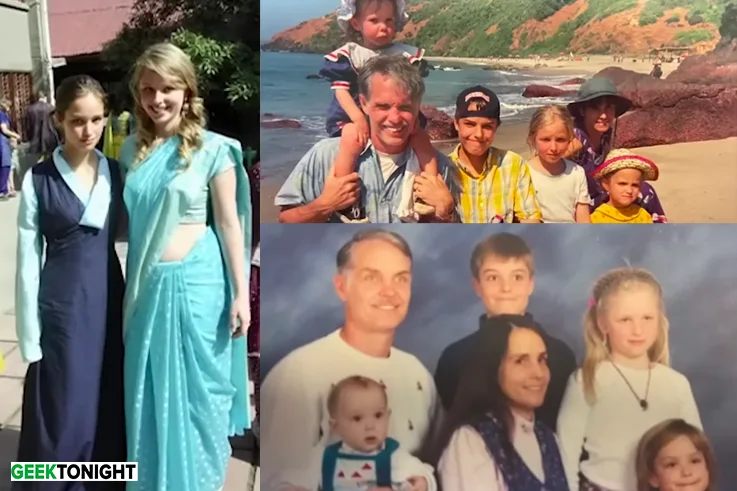 Rebekah and Arielle are the daughters of a Mechanical Engineering Professor in India, who shifted to India in 1992 with his family. These sisters were raised in India and spent their half-life in cities such as Kharagpur and Mussoorie. They have a clear understanding and passion for a clean life.
Before starting this startup, Rebekah worked as a Project Manager for FabIndia, where she successfully built a chain of coffee shops – named FabCafe. Her sister and co-founder Ariella used to work with Organic India. When Ariella was working with Organic, she usually experienced people complaining about gut-related health issues such as bloating, acidity and more. Ariella said that, as per statistics, 56% of people have gut issues. Later, she began her nutritional therapy practice to treat other people's gut issues.
They thought of ways to empower women and create more job opportunities as they worked. After experiencing the negative effects of a busy lifestyle, they come up with the idea of making health-boosting products.
Rebekah was on a trip to Bali when she got the idea to build the Atmosphere Kombucha as a brand. She once visited a Kombucha-making unit during the trip and learned how to make Kombucha. She used to drink it throughout the trip, which helped her maintain good gut health.
After realizing there was no Kombucha brand on the market, she decided to explore the space to build one. In 2018, she convinced Ariella to join her, and both sisters started Atmosphere Kombucha.
---
About Atmosphere Kombucha Company and Team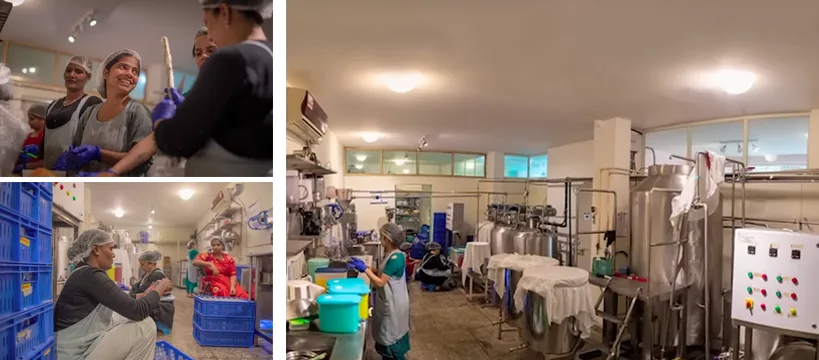 Atmosphere Kombucha has a phenomenal team led by powerful and inspiring female founders, Rebekah and Ariella. The team includes a strong and passionate female workforce. The business was created to build opportunities and support the livelihoods of women from diverse backgrounds. As a result, the brand has created a healthy working environment for its female employees, who feel empowered and valued.
Rebekah and Ariella know that their women workforce comes from difficult backgrounds. Atmosphere Kombucha also takes pride in an all-women workforce at its production unit in Delhi. Currently, they have a team of 14+ women working as food technologists and unskilled labourers trained in different processes.
Thus, the company gives its employees a sense of belonging, financial independence, and a platform to reach their goals. When customers buy an Atmosphere Kombucha drink, they are investing in building a positive ecosystem and contributing to their health.
What is Kombucha?
Kombucha is a type of fermented tea that is made by combining tea (usually black or green tea), sugar, and yeast and bacteria. The mixture is then fermented for several days to produce a slightly effervescent, tangy, and slightly sweet drink.
Kombucha is considered a health beverage due to its probiotic properties, as the yeast and bacteria used in the fermentation process create beneficial bacteria that can help improve digestive health. Additionally, kombucha contains antioxidants and other beneficial compounds, although the exact health benefits can vary depending on the type of tea used, the ingredients added, and the method of preparation.
Atmosphere Kombucha Products

Atmosphere Kombucha bestsellers are Kombucha and Kefir, which offer the benefits of a healthy gut. Kombucha is a sparkling tea which offers probiotic benefits and helps eliminate antioxidants, kill bacteria, reduce heart problems, and more. They are available in different flavors, such as Kolala, spicy ginger, exotic lime, and more. Kefir (a fermented milk product) comes in exotic flavors that taste delicious, such as blue pea flower, apple pie, and pina colada.
Besides Kombucha drinks, the company makes pancakes, fudge, cheesecake, and pasta, among other products. You can order them online based on your taste and health preferences.
Atmosphere Kombucha Competitors
Kombucha is not a new idea in the market. In India, Kombucha has made its way to the market. So, the Atmosphere brand has competitors like Bombucha, Toyo Kombucha, and Krishi Cress.
The real question is: What makes the Atmosphere Brand unique?
Compared to other brands, Atmosphere Kombucha has more flavors and a quality taste. Hence, they stand out in the market due to their taste, variety, and quality.
Atmosphere Kombucha Distribution
Atmosphere Kombucha sells its products in three ways:
Through Cold Chains: Starbucks, Blue Tokai, Food Hall and other big chains.
It is available at Restaurants such as Sly Granny and Mamagoto and hotels like The Leela and Marriott. 
Selling through their online website and delivering products to customers' doorstep.
Atmosphere Kombucha Revenue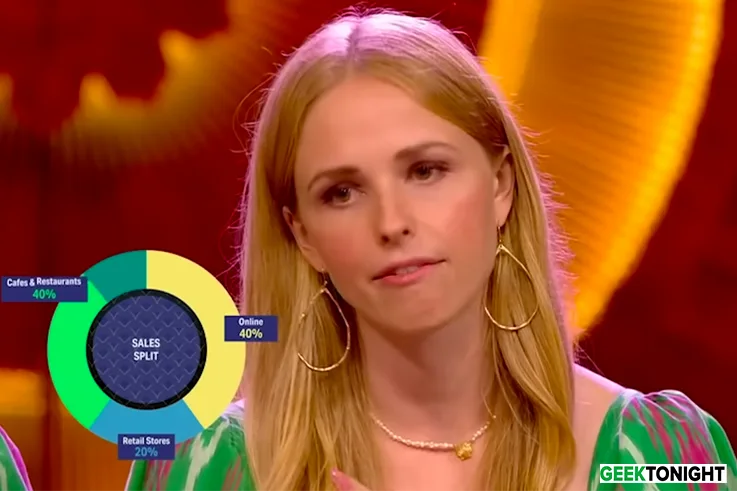 Rebekah and Ariella first invested Rs 25 lakh from their savings and got help from their parents. Next, how many sales have they made till now? First, the average Atmosphere Kombucha Price is INR 220.
Up to now, Atmosphere Kombucha revenue have done 1 crore in sales in FY 22-23. Sales are divided into two categories:
40% sales from their online website


 60% sales from B2B

20% – Retail Stores
40% – Cafes & Restaurants.
The Average Margin in Retail Stores is 35%, and in Cafes is 40 %.
In the end, they earned 29 lakhs as profits till now. ( Earned more sales and profits by selling Kombucha at Delhi, Goa, and Mumbai railway stations using ice packs.)
Atmosphere Kombucha Market
Kombucha Market Size is not studied in India yet. However, Kombucha is a healthy drink, and they are selling other healthy drinks such as Kefir. It means for them the market size is INR 15,000 crores.
Challenges Associated with Atmosphere Kombucha
Kombucha is an unknown drink for the Indian audience, so building up the business from scratch was challenging for these American sisters. So, designing a product in India is challenging because of the minimum order quantities.
When they went to a bottle supplier for 500 bottles, they refused the order as it was small. The minimum order for bottles was ten thousand, which was a crazy number for them. So, they bargained and asked to first supply 1000 bottles as their brands are at the initial stage. With no experience or minimum money, they started producing Kombucha and gave away free samples at small stores. Both sisters asked their friends to try the products and give them feedback.
In the first years, they mostly spent time experimenting with several formulations and developed ones that tasted good. They recalled living in Delhi alone, in their 20s, and not having much money.
Get better deals by negotiating with retail store owners. They used Jugaad when pitching their business to Shark Tank India Investors. Through the Indian Jugaad method, they could generate one crore turnover per year.
Atmosphere Kombucha Future Opportunities
At the time of its appearance on Shark Tank India, Atmosphere Kombucha earned 29 lakhs in profits. Their main goal is not to produce and distribute Kombucha but to other products such as nutritional pancake mix, vegan chocolate fudge, pasta, and many more. They need to do a lot of research and expand their factory to increase the production of Kombucha and other health-boosting products.
They want 75 lakhs to expand their manufacturing unit and produce 3 lakhs bottles per month. Right now, they are using digene bottles for packaging, but they are looking for new designs to package their products.
---
Atmosphere Kombucha Deal and Bidding
Demand from Entrepreneur
Ariella & Rebekah's Original Offer: ₹75 lakhs for 3% Equity | Valuation: ₹25 Crores ($3M)
Offer from Sharks
With their business pitch, only two judges offered them a deal.
Anupam's Offer: ₹75 lakhs for 20% Equity | Valuation: ₹3.75 Crores ($454 K)

Vinneta's offer: ₹30 lakhs for 10% Equity | Valuation: ₹3 Crores ($363 K)
Counter Offer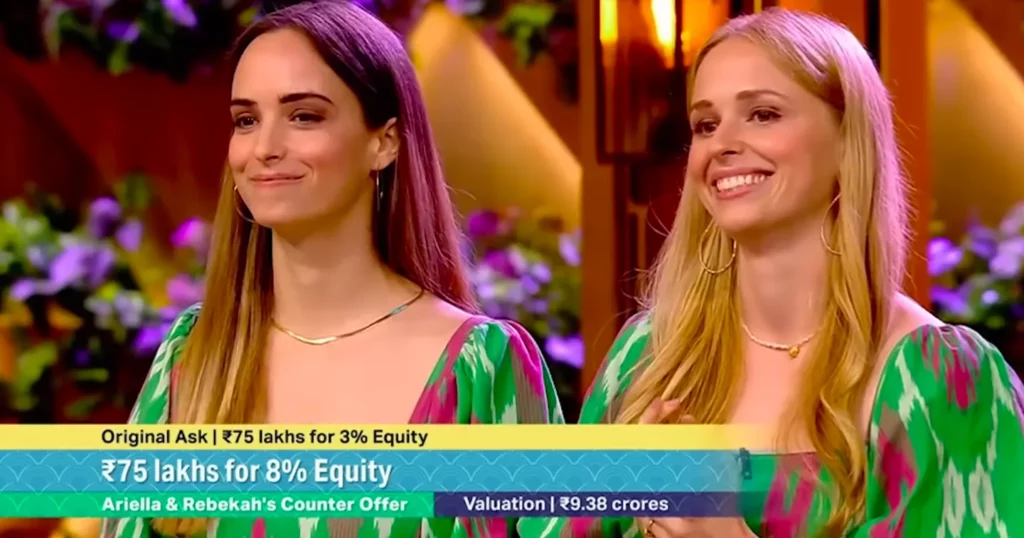 They rejected Vineeta's offer as it was an inadequate amount to build a manufacturing unit.
Ariella & Rebekah's Counteroffer Offer to Anupam: ₹75 lakhs for 8% Equity | Valuation: ₹9.38 Crores ($1.13M)
Founders and Sharks didn't agree to any offer. Rebekah and Ariella rejected offers from Sharks, and other investors were not interested in investing in their brand. There are several reasons why other sharks are concerned about the brand and its future in the market. Let's check the reasons in the next segment.
---
What are the issues addressed by Sharks?
Rebekah agrees that these are valid, but on the other hand, there are two sides to it. At Shark Tank Season 2, the Sharks expressed their concerns about the price point (a bottle of Kombucha costs Rs 220). Sharks Namita said the product's price is quite high, which doesn't attract a large audience. They are selling beverages above Rs 200 in Starbucks and other chains, which is expensive for common people.
Sharks also pointed out that producing and delivering these cold beverages is an expensive process. Three of five sharks said they don't see much future opportunity in their business.
However, both sisters didn't give up on their idea to produce healthy and tasty beverages for Indian people facing gut issues. They will work on their price issues and expand their product range to reach a mass audience.
Can they reduce the cost of drinks?
After appearing on Shark Tank India Season 2, both sisters have attracted more customers online, and their sales have also increased. When Sharks asked them that it was expensive to buy a bottle of 200, Rebekah answered that they could reduce the cost if they reached a good economic scale. They need investments to expand their manufacturing unit and increase sales of bottles to 3 lakhs per month.
Marketing Terms used in Atmosphere Kombucha Shark Tank Episode
Economies of scale is a concept in economics that refers to the cost advantages experienced by a firm when it increases production. It refers to the reduction in per-unit costs as the scale of production increases.
There are two main types of economies of scale: internal and external.
Internal economies of scale refer to cost savings that a firm can achieve by expanding its operations, such as through more efficient use of labour and capital.


External economies of scale refer to the benefits that accrue to a firm as a result of the growth and development of the industry as a whole, such as access to better technology and more specialized inputs.
Economies of scale can result in lower average costs and increased profitability for a firm, and can give larger firms a competitive advantage over smaller ones. However, they are not without limits, and at some point, the law of diminishing returns can set in, where further increases in scale lead to increasingly smaller reductions in per-unit costs.
Also Read: What is Economies and Diseconomies of Scale?